Health & Wellbeing Classes/Courses at SHC


Qi Gong with Christopher David Handbury

TCM Practitioner Christopher Handbury has been studying Qi Gong (pronounced chee-gong) for over 12 years and teaching patients and students locally for the past 8 years.
During his time Christopher has used Qi Gong to treat Sciatica, Back Pain, Neck Injury, Shoulder Damage, Digestive Issues, Anxiety, Post Viral Fatigue, Arthritis and Symptoms of Fibromyalgia.
"My experience of pain and illness started at a very young age and life has given me a few serious injuries along the way too. I have tried many methods over the years and nothing has ever matched the results that Qi Gong has given me!
Since I began practising Qi-Gong, illness and injuries don't affect me as much and most ailments have now healed entirely. Every day is a much happier experience now."
C Handbury
The classes provide a much needed solution to modern illness and emotional stress by releasing physical tension and injuries.
Once the body is free of blockages and restrictions, the energy channels (commonly known as meridians) of the body are free to transport and transform the various functions that maintain a health body and mind.
This natural healing process can be a profound experience for some, it can also be regarded as a fantastic daily medicine for others.
Qi Gong is a gentle and flowing practise which makes it suitable for all ages, shapes and abilities. The main goal of classes is to provide the three fundamental needs most people require. These are...
Less Pain
Less Stress
MORE Energy
Qi Gong is a COMPLETE holistic health system that helps to balance the functions of the body and mind to bring harmony to everyday life and strengthen our resistance to future illness and disease. Qi Gong has all the benefits of Tai Chi, Yoga, Pilates and much , much more!
If you would like to know more about Qi Gong and start your journey towards greater health please visit Christopher's dedicated website at www.chi-fit.uk
If you would like to contact Christopher please email or call.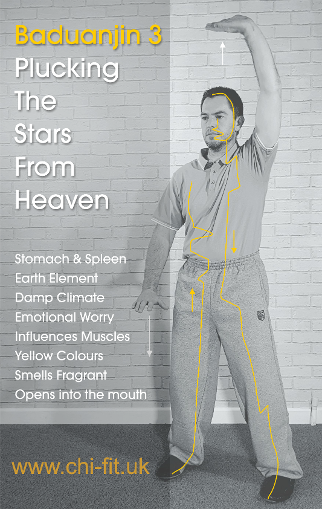 Badunjin Qi Gong

The main core system Christopher teaches is based around the Eight Brocades or Ba Duan Jin which is one of the oldest and most widely practised Qi Gong systems today.
Each Qi Gong movement helps to balance and harmonise the internal organs and its related emotion for greater health and resistance to illnesse's of the body and mind. Qigong is a daily medicine.
Basic Syllabus Practises
Active/Moving Qi Gong
Seated Qi-Gong
Zhan Zuang (Standing Qigong)
Lying Qi Gong (Spinal Health)

Walking Qi Gong
Qi Gong Massage (Self Treatment)
Tui Na Massage (Medical Massage)
TCM 5 Element Theory

January 2018 Class Availability:
Mondays 11.30 am Qigong for Fibromyalgia & Chronic Fatigue(Fully Booked)
Tuesdays 12.30pm Qigong Beginners Class - Spaces Available

Tuesdays 7.00 pm Qigong Intermediate+ students (Fully Booked)

Tuesdays 8.10 pm Spinal Helath Qigong - Spaces Available
Thursdays 8.10 pm Qigong All Welcome - Spaces Available
For a full list of upcoming events, workshops and classes please see our calender page here

Venue:
Kings Stanley
Kings Stanley
Eastington OHMG
Eastington OHMG
Stonehouse

Meditation with Mandy Johnson

Holistic therapist Mandy Johnson brings her amazing energy to the clinic with a series of nourishing meditation sessions and short courses.
Mandy Johnson is a busy Head of Drama and discovered meditation as a way to combat stress. Meditation helped Mandy to become a calmer and more focused person, adding a whole new dimension to her everyday life.
Mandy wanted to share this amazing life skill with her students and with others so the next step was to undertake Meditation Teacher Training with the British School of Meditation.
"Meditation allows the mind to have the freedom to be still, the body then gains very deep rest, and releases accumulated stress. I look forward to sharing this unique healing experience with you."
Mandy Johnson
Mandy has a series of FREE introductory sessions in December and January before she begins her regular courses throughout 2018.
Introductory Sessions:
Friday 1st December 2017 - 7.15pm & 8.00pm
Friday 12th January 2018 - 7.15pm & 8.00pm
Join in and experience the soft and gentle practise of self discovery and learn new skills for a better life journey. Click below to book your place today.
If you would like some more info please contact Mandy on
Call or Text on 07494 313 014