Patient Notice:
All patients are required to wear the correct clothing. Loose comfortable clothing with easy, un-restricted access to the knees, elbows and area of injury. Incorrect clothing will either need to be removed or treatment may be refused.
Flu Jabs and Vaccinations
Patients are ask NOT book or attend any appointments for 7 days following a Flu Jab or Vaccination.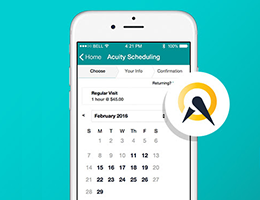 You can now download the Scheduling App for Acuity and make booking even more simple without visiting the website.
Android and iOS version available
If you are having trouble with the above booking links please click here to visit the full booking system